The life of superheroes is often glamorized, however, like most things, life isn't always so sweet. Photographer Dana Jonas wanted to illustrate the dark side of being a hero, the side in which no one wants to imagine… Inspired by the world being in complete distraught and the wonderment of being completely abandoned, hopeless, in need of a sign Dana created the series F*** YEAH AMERICA! Read Dana's thoughts below:
I'll be honest. Mostly I wanted a challenge. A steer away from my usual bright, colorful, happy pictures (granted I cheated and did those too with these guys). Through the process of photographing them I just kept thinking "gosh, if superhero's were real and trying to save us, I bet they really would feel this way". With the state of the world, the economy and every sad and crazy thing going on these days, I imagine if that was really in front and behind them, that would be a pretty gloomy existence.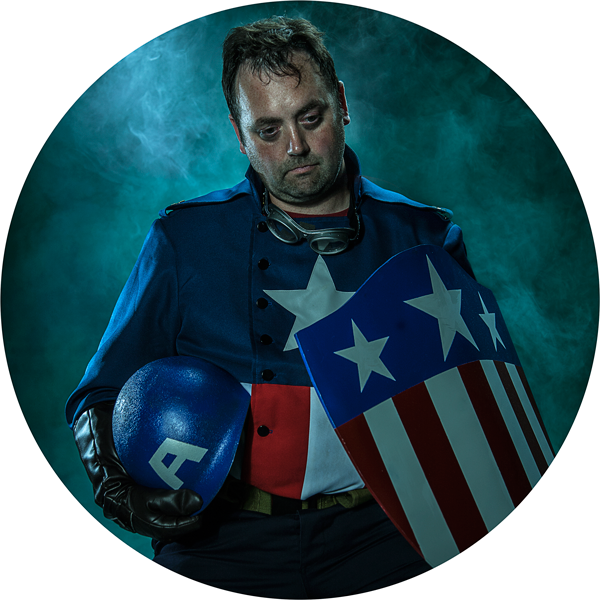 Read below to hear the bright side of Captain America. As Wiki States…
"Captain America is an American fictional character, a superhero who appears in comic books published by Marvel Comics. The character first appeared in Captain America Comics #1 (cover-dated March 1941),from Marvel Comics' 1940s predecessor, Timely Comics, and was created by Joe Simon and Jack Kirby. As of 2007, an estimated 210 million copies of "Captain America" comic books had been sold in 75 countries. For nearly all of the character's publication history, Captain America has been the alter ego of Steve Rogers, a frail young man who was enhanced to the peak of human perfection by an experimental serum, in order to aid the United States government's efforts to win World War II. Captain America wears a costume that bears an American flag motif, and is armed with an indestructible, boomerang-like shield that can both be thrown as a weapon and used to defend against others' weapons." – Wikipedia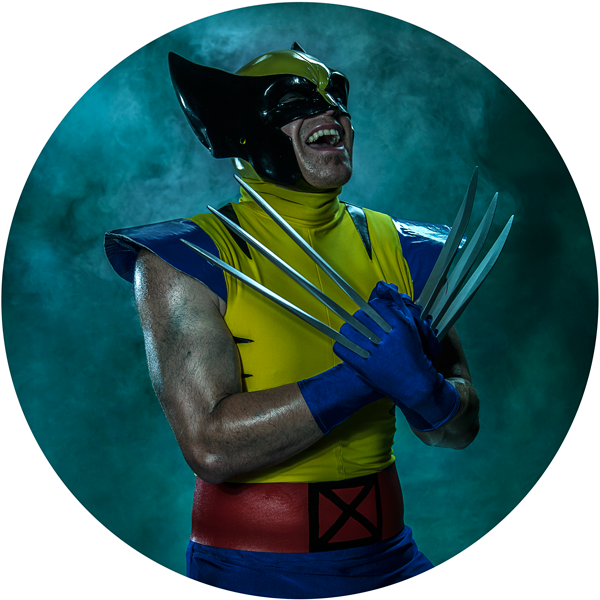 As Wiki states the "bright side of Wolverine".
"Wolverine is a fictional character, a superhero that appears in comic books published by Marvel Comics. Born James Howlett and commonly known as Logan, Wolverine is a mutant who possesses animal-keen senses, enhanced physical capabilities, and a healing factor that allows him to recover from virtually any wound, disease, or toxin at an accelerated rate. The healing factor also slows down his aging process, enabling him to live beyond a normal human lifespan. His powerful healing factor enabled him to survive having the near-indestructible metal alloy adamantium bonded to his skeleton. He is most often depicted as a member of the X-Men, Alpha Flight, or later the Avengers." – Wikipedia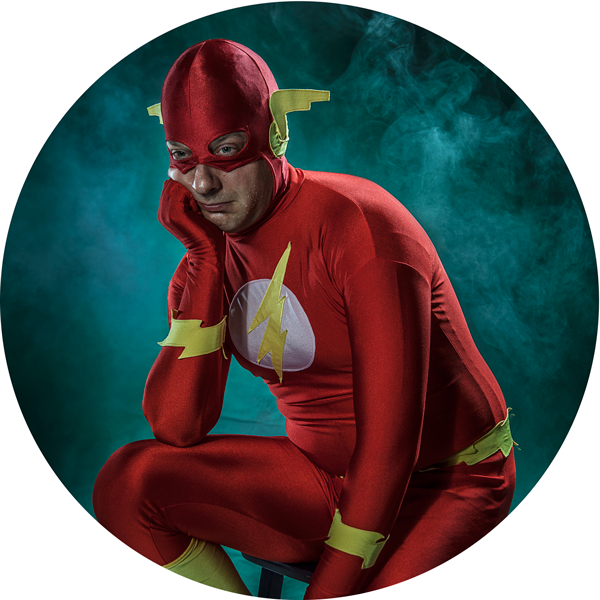 Wiki states:
"The Flash is a name shared by several fictional comic book superheroes from the DC Comics universe. Created by writer Gardner Fox and artist Harry Lampert, the original Flash first appeared in Flash Comics #1 (January 1940).Nicknamed the Scarlet Speedster and the "Crimson Comet" all incarnations of the Flash possess "super-speed", which includes the ability to run and move extremely fast, use superhuman reflexes and seemingly violate certain laws of physics. Thus far, four different characters—each of whom somehow gained the power of "super-speed"—have assumed the identity of the Flash: Jay Garrick (1940–present), Barry Allen (1956–1985, 2008–present), Wally West (1986–2006, 2007–2012), and Bart Allen (2006–2007, 2009–present). Before Wally and Bart's ascension to the mantle of the Flash, they were both Flash protégés under the same name Kid Flash." – Wikipedia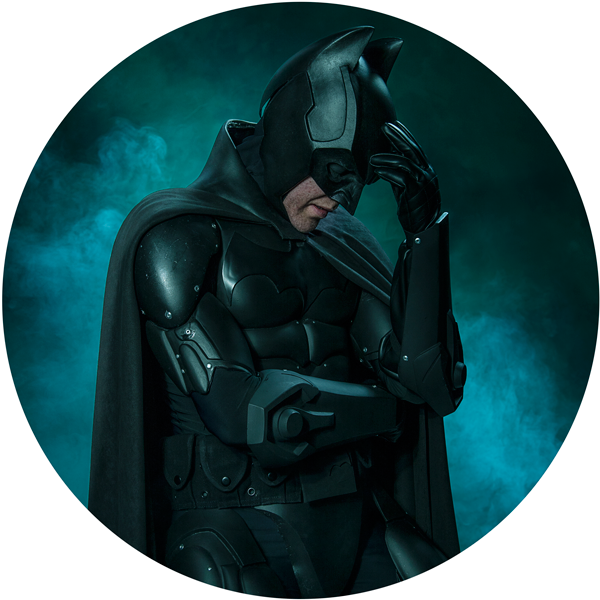 And again via Wiki here is Bruce Wayne!
"Batman is a fictional character, a comic book superhero appearing in comic books published by DC Comics. Batman was created by artist Bob Kane and writer Bill Finger, and first appeared in Detective Comics #27 (May 1939). Originally referred to as "the Bat-Man" and still referred to at times as "the Batman," the character is additionally known as "the Caped Crusader,the Dark Knight,and "the World's Greatest Detective,among other titles. Batman is the secret identity of Bruce Wayne, an American billionaire playboy, industrialist, and philanthropist. Having witnessed the murder of his parents as a child, he swore revenge on criminals, an oath tempered with the greater ideal of justice. Wayne trains himself both physically and intellectually and dons a bat-themed costume in order to fight crime.Batman operates in the fictional Gotham City, assisted by various supporting characters including his crime-fighting partner, Robin, his butler Alfred Pennyworth, the police commissioner Jim Gordon, and occasionally the heroine Batgirl. He fights an assortment of villains, often referred to as the "rogues gallery," which includes the Joker, the Penguin, the Riddler, Two-Face, Ra's al Ghul, Scarecrow, Poison Ivy, and Catwoman, among others. Unlike most superheroes, he does not possess any superpowers; he makes use of intellect, detective skills, science and technology, wealth, physical prowess, martial arts skills, an indomitable will, fear, and intimidation in his continuous war on crime." – Wikipedia
Related posts: