In celebration of the world's naughty, but nice holiday, food photographer David Bell got inspired. He created a photograph with a mix of pie, panties, and fun. It was fun for the studio to get involved in a strange photograph that incorporated food and naughty bits. Read on for the photographer's words on this crazy shoot…
Sexy Panties – Check
Berry Pie – Check
Her two favorites ~ Ooooo this will be a Good Valentine ! ! !

Creative Direction – Shoot a fun interesting eye catching image of hands at work. Shoot it the way I shoot food, my pretty lighting and shallow focus

Art Direction – Push it…push it more !

Fun times making fun images . . yes it is a good day

-David Bell
This shoot of course was not complete without our trusty producer Megan. She was nothing short but in the Valentine's Day spirit and making this image one of a kind.
When the idea of a juxtaposed panty/baking image was initially thrown around, we all thought it was quite naughty and figured we should give it a whirl!
As the producer, I was charged with the task of prop shopping and finding the hero of the image…the perfect pair of panties. I hit Nordstrom and Victoria's Secret HARD.
I had about A LOT of options, ranging from a perky, floral magenta to a black satin number.
Our first pick was a multi-colored, tie-dyed pair that, to me, represented a mixed berry concoction. That was looking pretty groovy, but ultimately a vibrant purple pair caught our eye and ended up being just right!
Chris Eltrich, our fab hand model, says that "It was a dream come true" to be that close to a pair of women's underwear. Just kidding. But really.

-Megan Nolan
As you can see, we absolutely love this fun image!! And from everyone at Studio 3, Happy Valentine's Day, and we hope you have a fantastic day with your sweetie, your friends, or your cat. Whatever, makes you feel the love!!!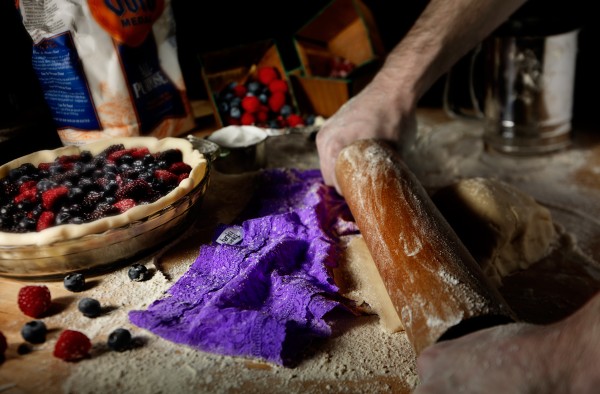 Related posts: