It's summer in the Northwest, the perfect opportunity to get outside and shoot. Recently, Lifestyle Photographer Matt Jebbia headed to Green Lake to capture the practice of yoga in a peaceful setting. He came out with some great pictures, read below for his inspiration behind the shoot:
There is just something amazing about shooting outside in the NW. Seattle being one of my favorite areas to live and work has just an astounding amount of parks with water that just add an awesome element to any photographer's photo shoots. These yoga images were shot on a pier at Green Lake in North Seattle. I was a bit concerned that my choice of time of day was a bit ambitious given that the sun is usually at its hottest point at 4:30pm. Turns out that in relationship to my model the sun created some pretty nice lighting on her face when she turned just the right way. This inspired me further, knowing with the help of our digital team, we could create an awesome tropical, yet serene image.
The pictures inspired a collaboration between Matt and Alex, with the end result of the model appearing as if she were in a tropical place like Bali or the Maldives. Alex Gumina shares how he created the tropical feel:
When Studio 3 photographer Matt Jebbia originally came to me with these yoga images he wanted to give them a more tropical feel. They were shot on location at Green Lake and although a beautiful setting, it certainly feels more like the Pacific Northwest than it does a tropical paradise. His initial edits for me were "remove the houses, lengthen the dock where needed / remove the railing, and see what you can do with the background in general". The words "see what you can do…" sort of opened up the door for me to get creative, and I decided to take full advantage.

I thought to myself "where would be a really beautiful, peaceful place to do some yoga?" and the Maldive Islands came to mind. After a quick Google search I found an inspiration image and went to work. If you look closely, you'll actually see this image at the top of my layers palette. I pasted it in so I could sample the blues for my sky gradient. For the clouds I considered using a Photoshop brush or some vector art, but I wanted something a little more original so I decided to hand "paint" them in on my own. It was at this point that I decided to start recording a video (see below).

I had already drawn my path around the model and used an alpha channel for her hair, so it was really just a matter of cleaning the image up, dropping in the background, and changing the color of the water. While reviewing the image with our Studio Producer, Megan Nolan, she pointed out that it looked like the model was struggling a bit with the sun in her eyes. I did some quick adjusting to fix it and I think the end result is perfect.

I spent about half an hour on the image before I started recording, and about three hours on it after. When I finished I imported the video into Adobe Premiere, did some quick editing, squished it down to three minutes, and added an audio track. What you have here is the final product. Enjoy!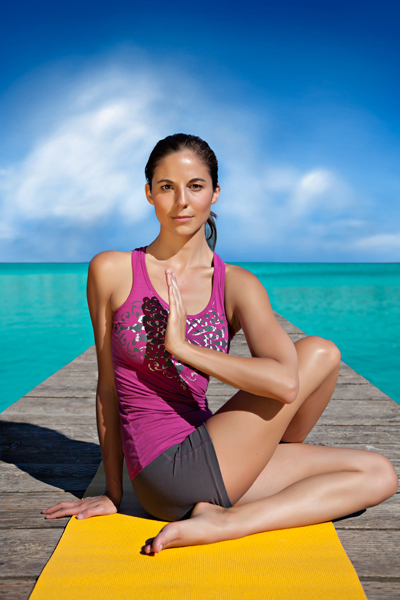 Related posts: