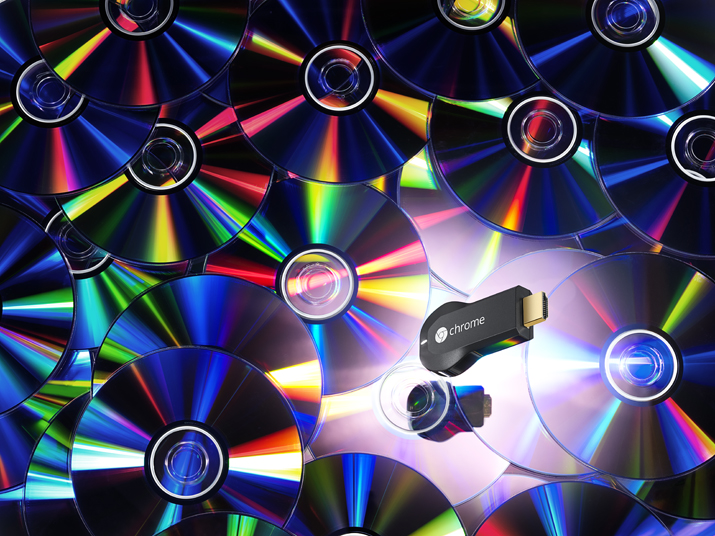 You know how you have your closet full of countless DVDs? Doesn't it suck whenever you move to a new home and you have to lug your timeless collection with you? Yup… It used to.
Last year Google launched the ChromeCast, a thumb-sized digital media player that claims it's "the easiest way to enjoy online music and videos on TV."  Life just got a little bit easier without DVDs that skip or piles of movies that go weeks without being organized. To celebrate the cure to this chaos, Studio 3's Chris Eltrich captured this ingenious innovation in all its glory.
The inspiration for this photograph, Chris states, is the juxtaposition of "old" vs. "new." In order to accomplish this production, he covered the shoot with a multitude of lights and reflectors that created an iridescent look on the disks. After a few takes, what had originally started as an idea to shoot just a couple of DVDs developed into a brilliant plot to shoot an entire spread of them. This helped gain a greater color scheme which would become the perfect backdrop for our all-star, the Google ChromeCast. "I was really pleased with the way the CD's turned out. They made for a perfectly unique background," Chris says.
While some things never get old, like The Goonies, Otter Pops, and Johnny Cash… other things have expiration dates. CDs, DVDs, and VHS tapes are just a few examples of them. We're not saying you should quit watching your favorite childhood movies… but maybe it's finally time for those grainy recorded video tapes to go. Make a sleek transition to the ChromeCast life and lose a load off your back- or your movie shelf.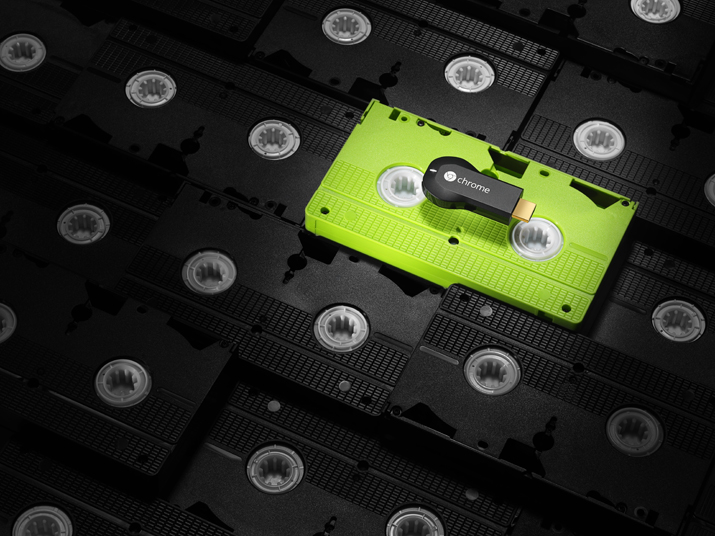 And now, FOR A LIMITED TIME ONLY book a job with us and get a free movie night in the Studio with your favorite film and photography team. Pick up that damn phone and get dialing!
Related posts: