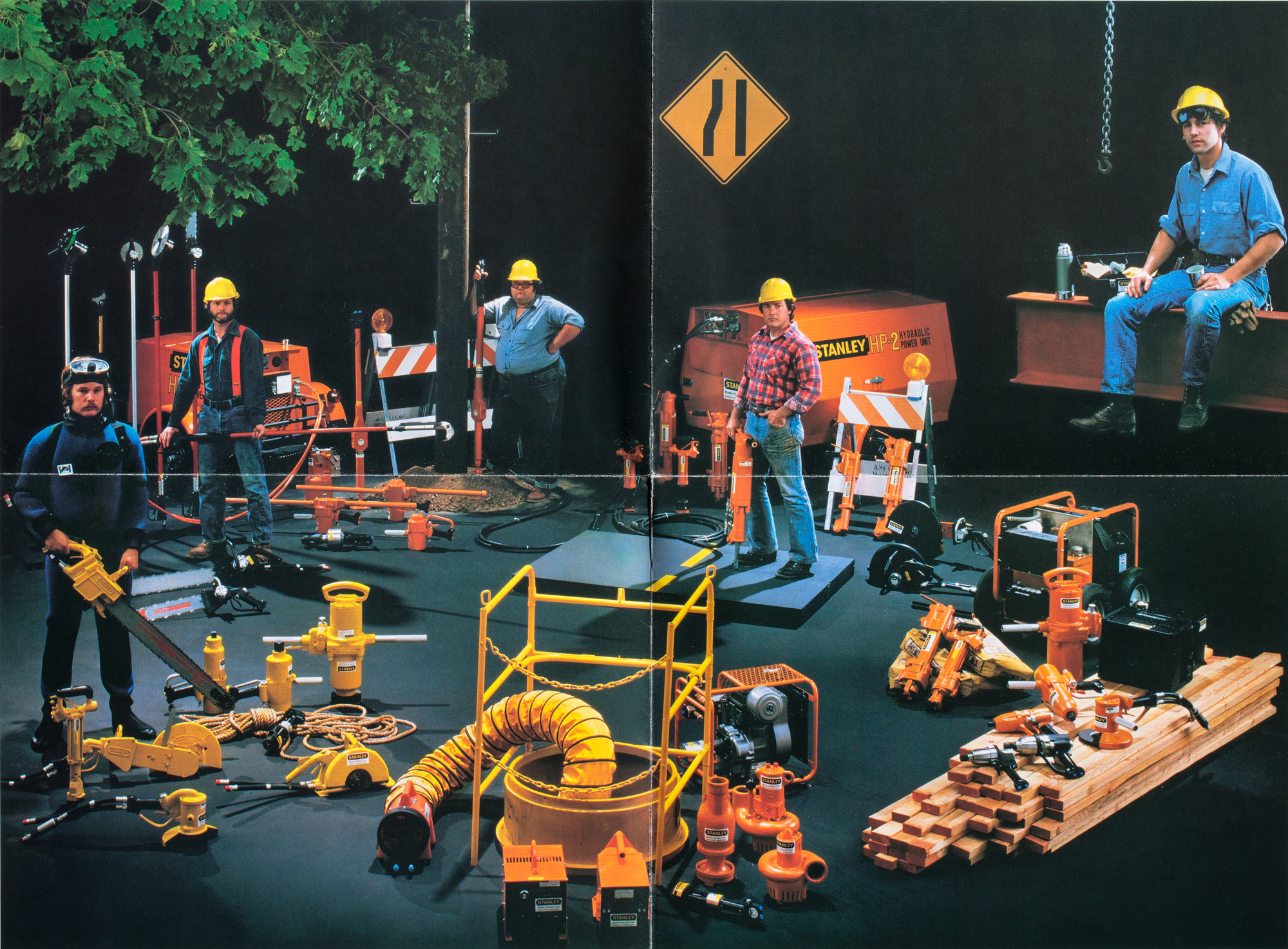 Can we fix it? YES WE CAN! Ahh… nothing says "Made in America" more than a room filled with sweaty, hard-working Macho Men (and Women). With that said, the Stanley Hydraulics advertisement shown above was brought to life by the diligent work of  Studio 3's Henry Ngan and our very creative friends at Bronson Leigh Weeks. With the innovative concept mapping of Loren Weeks, this lively production resulted from the need of an in-store display showing the extensive line of Stanley's hydraulic power tools for industrial applications. Henry noted that this concept took a little more brain power than normal. The oversized nature of the elements included in the shoot  (power poles, manhole covers, I-beams, forklift, load of lumber, etc.)  made it so that Weeks' vision could only be brought to full fruition in a controlled environment. Photographer Henry Ngan states:
"This was a particularly challenging assignment that unfolded over the course of several weeks from concept meetings to getting all the elements together to painting the cyc with an airless sprayer and building the scene. We had to scout for talent to fit the right characters envisioned by Loren Weeks. When the day finally came to shoot, it was like conducting an orchestra in order to create a harmonious image with all the elements including lighting, talent, products, various props and the whims of the art director, and product managers."
Henry recalls that the most complicated part of the process was the fake I-beam which was strapped to a fork on a fork lift. Luckily, it was strong enough to support Craig Wagner (top right), one of our current Studio 3 photographers who back then was acting as an assistant and model. Isn't he dreamy? In order to allow swings and tilt to enhance photo quality, Henry shot with a Sinar P camera with a 135 mm Nikkor lens on 4X5 Fuji Velvia film. Henry then lit the set with various light modifiers and Speedotron strobe lights which were hung on beams above the scene in order to add a little drama and create the look Weeks was after.
"There were lights everywhere," he said. "Up in the air, on the ground, and hidden behind props. I had to get as much depth of field as I could, so I used Speedrotron Black Line 2400 w/s power packs, one per head. With the bigger cameras and longer lenses, f32 and f64 was not uncommon in order to achieve max depth."
All in all, with so many hands at work, the project turned out to be top of the line just like Stanley Hydraulics. At Studio 3 we think work is good, but we also like play. SO come hang with us and you can have the best of both worlds.  Do like our photographer (and model), Craig, and take a break to have a bite with us. Shoot us an email to schedule our lunch date. We'll even throw in the libation of your choice! Until then, only one more day until Friday… Keep dreaming, friends. Keep dreaming.
Related posts: