No matter the time of day or what age we might be, we all love to daydream about all the things you would like to be when we grow up (you too, adults, we're all still growing up). We thought we would offer you some super-fun inspiration! It's got to be every photographer's dream to get to shoot a real superhero and we at Studio 3 are all about making dreams come true. So in honor of all the daydreamers, comic book readers, Saturday morning cartoon watchers, and mighty superheroes watching over us, we used our own super powers to create some fun portrait photography in the studio!
We constructed the set for the shoot completely in studio, using everything we could find to create a real home feeling for this little Wonder Woman to strut her stuff in. Prepping for the shoot totally brought us all back to the days of playing in our living rooms for hours and hours! Rather than aiming to turn our model into the actual superhero, the concept behind the shoot was to capture the fun and whimsy of being a kid, piecing together your favorite hero's costume with whatever you find. Our favorite parts are definitely those big cowboy boots (almost up to her knees!), her wild hair blowing majestically in the powerful winds of her fan, and of course that trusty tin foil sword!
By the looks of those stuffed dolls all around her, it looks like our Wonder Woman's got quite a bit of citizens to look out for! Keeping imaginations running is the most important exercise there is the creative industry, so we always encourage routine daydreaming around the studio. Wherever you are, in whatever you're doing, don't forget to take a moment every day to think like a kid!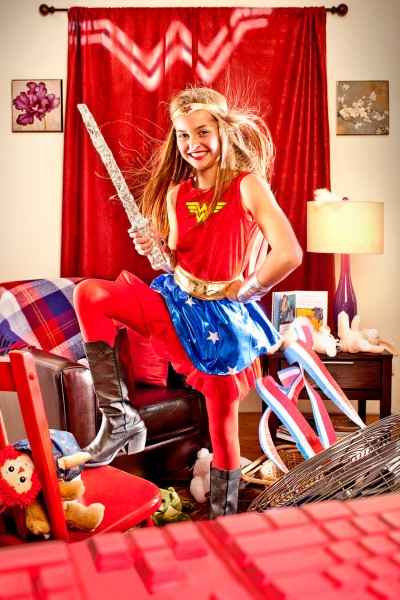 To See More Portrait Photography Check Out Our Website!
Related posts: