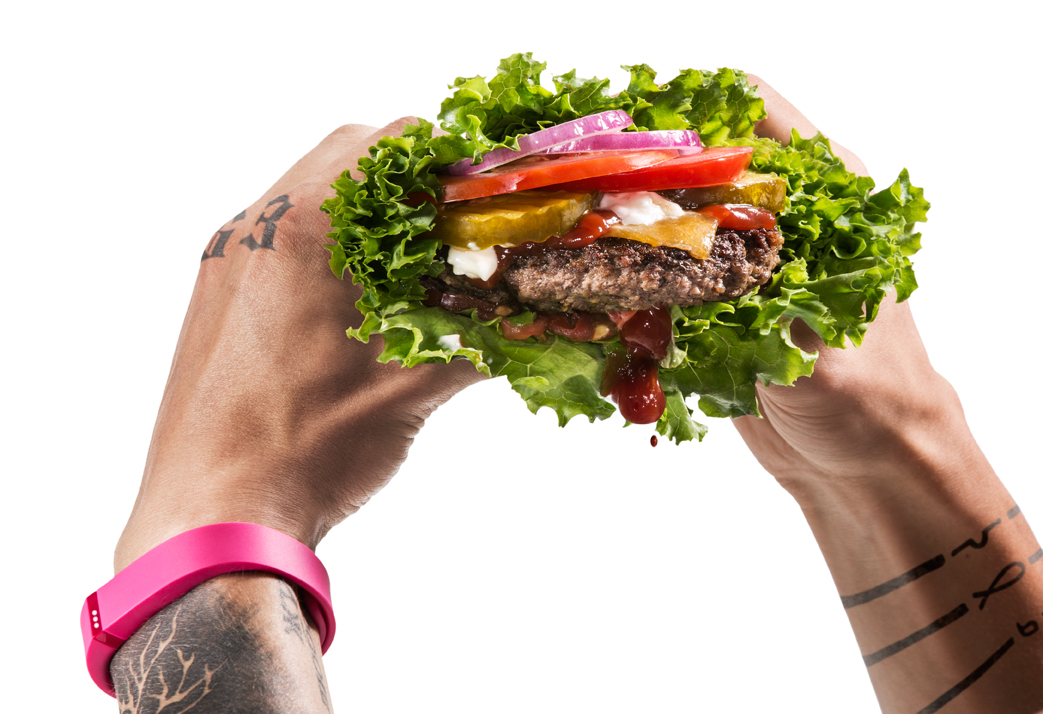 It's the first week of the New Year already…how are those Resolutions going?
Creating Resolutions each year in an effort of renewal and self-improvement is wonderful, but Studio 3 has never veered from our Resolution of providing great photography for discerning clients. Our goal, year in and year out, is to create photographs that stop you in your tracks, make you think twice, grab your attention, and welcome you into a world of sumptuous food and drink, stellar products, cutting-edge technology, cool vehicles, and a fun lifestyle.
For our first shoot of the New Year, Studio 3 Team created a mouthwatering editorial photography shoot featuring one of our favorite fitness products: the Fitbit. A pink one. On a heavily-tattooed male arm. Because every manly man needs his Fitbit along with him, tracking his exercise, activity levels, steps per day, and most importantly, his indulgences.
The brief was to create a "healthy" version of a hamburger that would go literally hand-in-hand with the Fitbit lifestyle. To that we looked no further than Carl's Jr.,'s Low Carb ThickBurger®, and sought to re-create the healthy lettuce-wrapped delicacy in-house. Food Stylist Allyson Carroll cooked the burger from scratch, stacked it up, wrapped it in lettuce, and added the perfect amount of ketchup to make the burger look delectably juicy.
Studio 3 Photographer Henry Ngan is a master of lighting, and for this shot he focused on the freshness of the burger utilizing a crisp, bright "beauty" light. He backlit the white wall behind, and shone a spotlight on the burger to bring out its succulent texture. The abundance of white and the absence of a background made, just like the latest iDevice from Apple, the focus all about the product in the foreground.
Unlike product photography, Editorial Photography takes a familiar concept and makes a statement. In this case the statement was made by pairing contradictory elements. In post-production the gangsta letters and right wrist tattoos were digitally added to the model's knuckles to make him look even less likely to own a Fitbit in pink (and if we hadn't told you, would you know those tats didn't actually exist?) Lead Digital Artist Alex Gumina integrated the tattoos into the image seamlessly, and struck a good balance between drippy and gooey for the ketchup falling out of the burger. Finally he achieved the perfect harmony between burger and Fitbit by creating the same level of sharpening on both, and added contrast and color to the Fitbit to give it its own pop.
The Studio 3 Team can take any food or product photography brief and create a fun twist that marries them into some eye-grabbing editorial photographs. Give us a call to inquire as to how we can bring that juiciness to your next shoot, or stop by one of our Pacific NW locations to get a taste of the Studio 3 lifestyle.
Photographer: Henry Ngan
Photography Assistant: Jonny Brandt
Producer: Liz Swales
Food Stylist: Allyson Carroll
Model: Jacob Cotner, Muse Model Management
Digital Artist: Alex Gumina
Equipment: Canon 5D Mk III, 100 mm Macro Lens
Related posts: