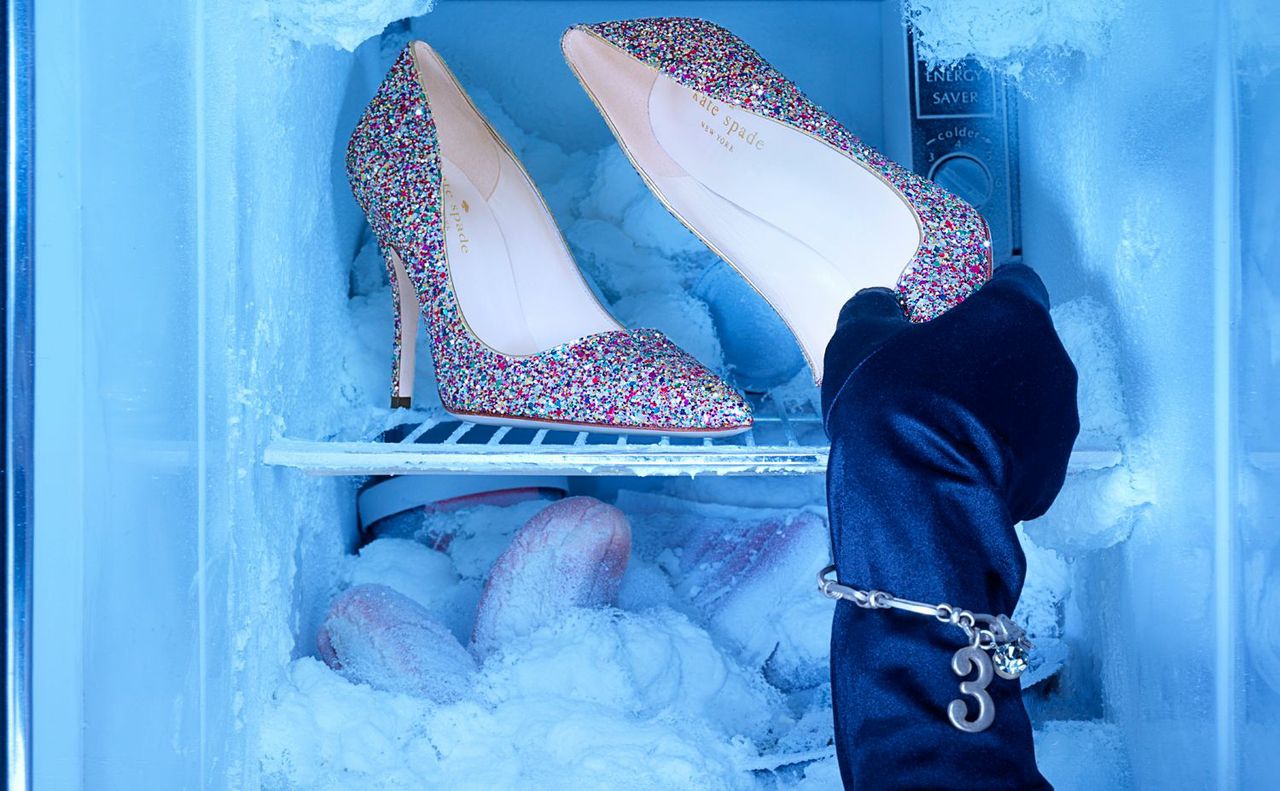 One of Studio 3's specialties is compelling footwear photography -and our Team works tirelessly to come up with new and interesting ways to depict shoes. Because shoe photos can get run-of-the-mill unless presented in a cool (sometimes literally!) way.
The brief was to shoot a really hot pair of Kate Spade heels…in a really cold environment. To juxtapose the literal with the figurative, mix creative concepts, and craft something eye-catching and arresting. The background needed to be drenched in cold, impersonal blue tones, but the shoes needed to look on FIRE. As soon as you flip to this ad in a magazine, these shoes needed to shout: "BUY ME, I'M SASSY!"
Photographer Chris Eltrich was instrumental in bringing this shoot to life: he built the freezer scene from the fridge ground up in order to make those pumps POP. Producer Megan Nolan sourced all the props as well as the [canned] snow for the freezer burn. Originally the model's hand was bare with icy-colored nails; after feedback we adjusted to have the model wear a sleek evening glove as she grasped the shoe.
In post-processing, Digital Artist Alex Gumina worked to downplay the cool blue tones being thrown onto the shoe from the freezer, and bring the shoe back to life without compromising the frigid background. Placing the shoes in the Studio 3 light box to obtain neutral lighting, and then color matching them in the digital process was the perfect solution. In order to showcase the Kate Spade logo, he also had to recreate the logo separately and adjust the angle and tone to fit the footbed of the shoe. In this way the heel and the brand are the focus, and the background pulls the viewer in and makes them curious enough to pause and wonder what's afoot.
Does your brand need to warm up your footwear photography with some sassy new concepts? Contact the Studio 3 Team to add that fire to your next campaign. Because ice is nice…but HOT images are our specialty.
Related posts: