Are you a Burger fanatic? We've got just the trick to get your mouth salivating and your stomach full! The first of many more images to come, is a beautiful man eating an even more beautiful burger. The first challenge was where do you find an EPIC styled burger? You talk to our sought after brilliant Food Photographer David Bell. David Bell immediately suggested food stylist Erika Macias in Seattle for this project! The next challenge is a model who can provide a personality and deliver during a photo shoot! After a day long cattle call in Seattle, we found the perfect match for this concept.  Lifestyle Photographer Dana Jonas really wanted the subject and model to carry the photo versus creating intense lighting. As you can see Dana chose to shoot with a wide angle lens forcing the perspective to create that larger then life look! The production crew pulled the wardrobe and props together — What a fun project! Read on to find a hint on Dana's next image for this series of impeccably attractive people gorging on America's favorite food:
This shoot was a blast! Erika's burger was EPIC, and the model said it even tasted good 🙂 For the lighting I was going for a restaurant kind of feel. That typical sort of overhead warm light. So we built the set in studio and took a stab at it. Stay tuned for a sister image to this one. All I'm gonna say is: root beer float, girl next door, picnic and pearls!
Check out Dana and Erika's burger masterpiece. You know you're hungry!
FOLLOW-UP! Check out the sister image to this one below: Happy Labor DAY!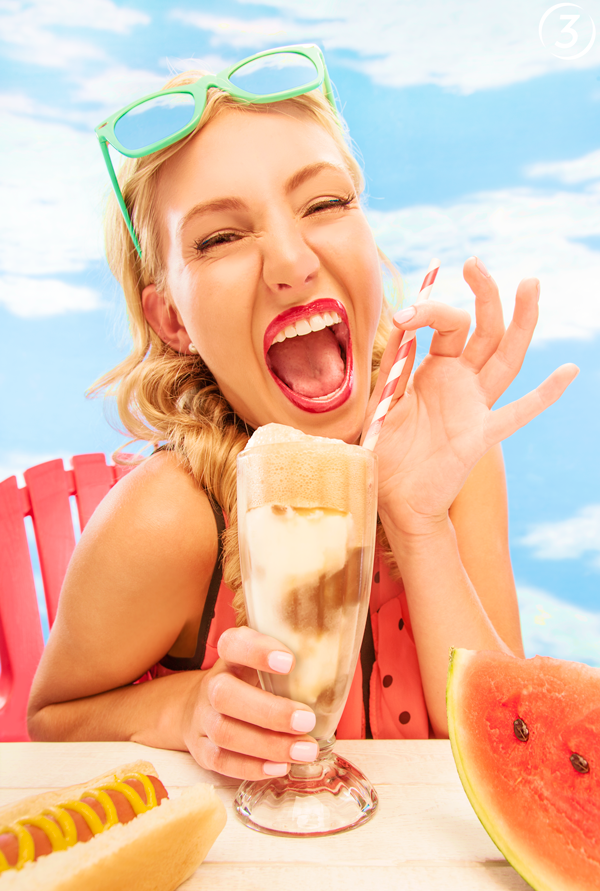 To view more Lifestyle Photography by the Studio 3 crew, please click here.
Or go directly to: www.studio3.com
Related posts: