We are so excited to introduce Corban who's now a part of the Digital Art Studio 3 team in Portland! He has many amazing talents. Read below to learn more: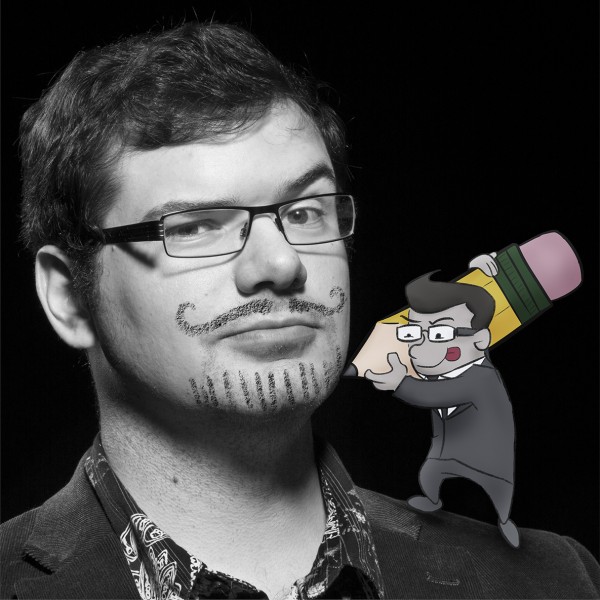 "I'm a renaissance man, jack-of-all-trades, or as Wile E. Coyote put it: "Super Genius". The universe is my playground. Even though I'm not yet a master, I'm a journeyman at so many things I can do practically anything. This curious state of being comes from my insatiable thirst for knowledge. There's always something new to discover. My mind rebells at stagnation. I need problems to solve. I need work to create. Who needs television when the real world is one big sandbox?
Born and raised in Oregon, I was encouraged to follow in the footsteps of my grandfather by becoming an engineer. It certainly made sense considering my aptitude for math and science. Electrical engineering in particular seemed a good choice. I loved technology and what could be done with it. Being on the cutting edge of electronics seemed an exciting prospect.
I enrolled in engineering school at the University of Portland. By day I was your mild mannered engineering student. But by night I was an artist teaching myself drawing, animation, and graphic design. Often people would ask me "What are you doing in engineering school? You should be an artist!" And they were probably right.
The arts were part of my life since childhood. I would draw my favorite cartoon characters or sculpt them out of clay. I'd listen to radio plays or construct cities with Lego bricks on the living room floor. In school I was involved with music and theater, playing multiple instruments, acting in Shakespeare plays, and singing in musicals. From drawing and sculpture to film and theater, the arts captured my attention. But, strangely, it never struck me to pursue it as a career.
The summer after graduation, it finally dawned on me that I was meant to be an artist. Engineering just wasn't as entirely satisfying as I had hoped. The work was fairly easy. But life in a cubicle didn't sound exciting or creative. It sounded like a dependable boring job. And that wasn't really what I wanted.
So it was off to DigiPen Institute of Technology for four years to get educated in the digital arts. It was during that time I fell in love with story, film, and animation. Storyboarding and video editing in particular are my two favorite parts of production. In fact the digital arts as a whole have been wonderfully engaging. As an artist you need to learn everything there is to know about everything to synthesize new art. And the technical nature of the industry satisfies the part of my brain that enjoys solving the puzzles of process.
After working in Seattle for a year, once school was finished, I finally returned to what I consider home: Portland. Seattle was nice, and one day I may return, but for now I'm right where I want to be." ~ Corban Monger, Digital Artist/Studio3, Inc.
Related posts: