One of our favorite times of year is discussing everyone's upcoming holiday adventures. This year we decided to send out an image not taken by a Studio 3 photographer, but by our Studio Rep in Portland. The image below was used as our Studio 3 holiday greeting card and sent out to all of our clients in both Seattle and Portland. The original image was inspired by the beauty of Banks, Oregon. Here are a few words from Lee Mendelsohn our Studio 3 Commercial Photo and Video Rep in Portland, Oregon.
When I moved to Banks, Oregon after living in Dallas, Texas I was in awe of the stunning scenery and colors in the beautiful countryside right outside the city. If you've ever been to Texas then you completely understand! I drove on this road daily to work and have taken pictures on this road in virtually every season.  When the winter came and we got a light dusting of snow I had to stop my car right there to capture this shot. I used my Nikon Digital SLR camera with 18 – 200mm lens to capture this image. The thing I love the most about this photograph is the S curve in the road, the composition, and the beautiful, contrasting colors!

In order to make this a more holiday appropriate image the Digital Post Production team took over and added the Snowflake, Arizona sign and removed some of the power lines. This helped to tie in the holiday spirit. I look forward to sharing more of my nature images in the future. Images like this give me a  ton of inspiration to get out there and shoot more NW beauty!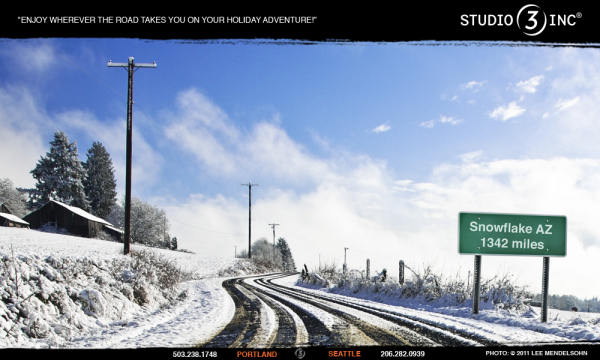 To view more Environmental images created by the Studio 3 team, be sure to check out our website at www.studio3.com
Related posts: