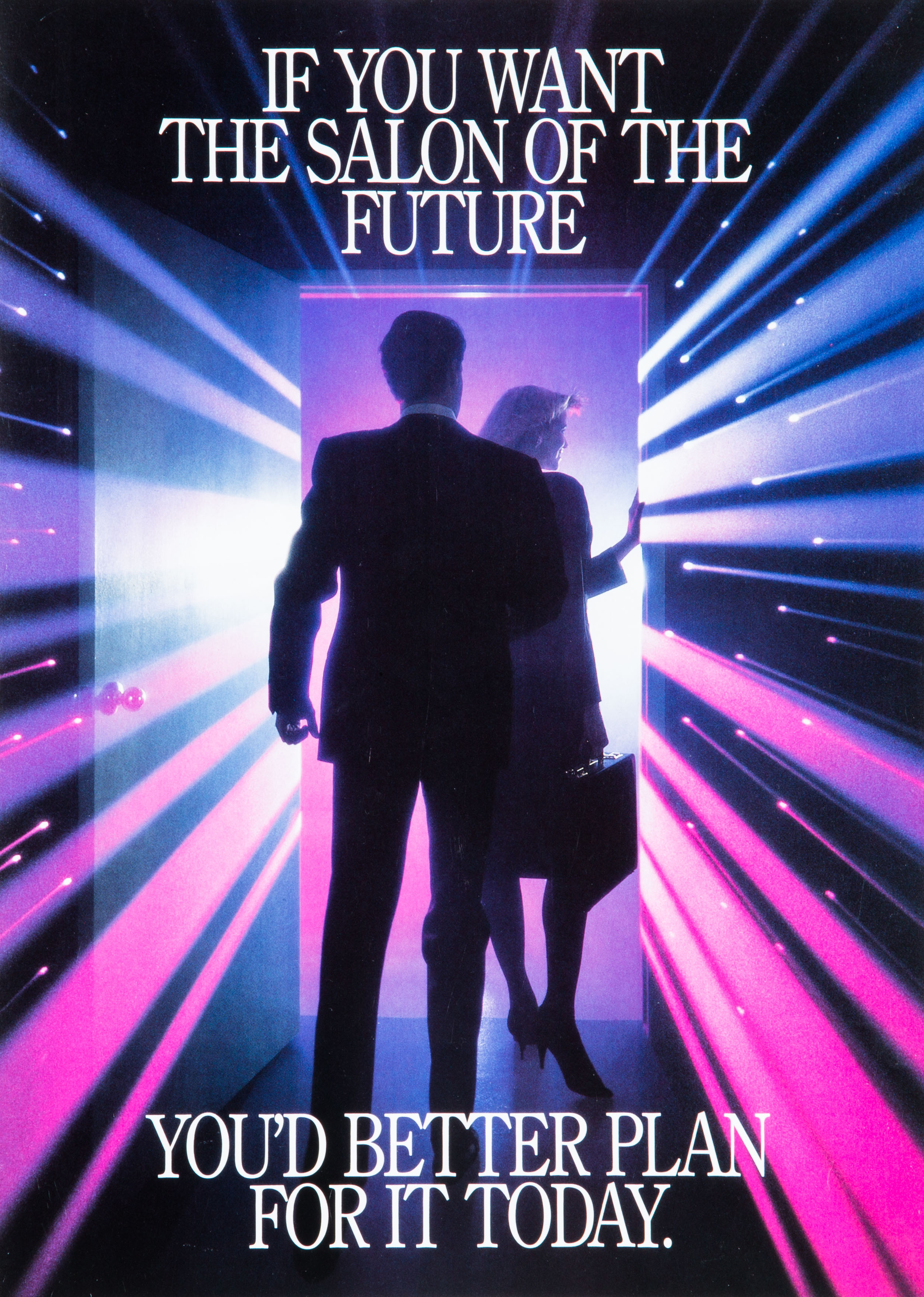 Back in the mid- to late 80's, this was the salon of the future, but the above photo was created using the cutting-edge techniques of the past. For reals. For Throwback Thursday #TBT this week we're sharing some product photography that was composited from three separate film-based shots, created by Studio 3 photographer Henry Ngan, assisted by Craig Wagner.
In the heyday of salon tanning (before that whole skin cancer thing got in the way), SCA Wolff System/Sun American Corporation was looking for a way to market their new tanning beds to salon owners and called on Studio 3 to execute. The brief for this shoot was to make the product look glamorous and have the cover shot act as the entrance the world of tanning, where through that open door lay a futuristic, glamorous world full of glowing beauties. At the time, laser beams in photography and visual media were mad trendy with Star Wars and Laser Tag leading the charge. The idea was to incorporate this trend with tanning beds to emphasize their futuristic and cutting-edge technology.
Mid-1980's Product Photography
Shot in Studio 3's earlier location at Lenora Square in Seattle, this shoot relied on large format 4×5 film for the cover image. (And 8×10 film for the image below.) What that means is that the actual 4″ x 5″ sheets of film were loaded, ViewMaster-style, into a Sinar-P technical camera, exposed, removed, flipped around, inserted, and exposed again. Creating just a single image was a great deal more hardcore than the much simpler point-and-shoot DSLR's of today!
Here's the 4-1-1 on how it went down: The doorway was shot first, and then on a completely different set Henry and Craig used a lithomask with different-colored gels in different areas to create the colorful pink and purple tint to the lights. The "laser" light streaks were created in-camera by either pulling or pushing the camera lens during a timed exposure. (Similar to the concept of creating a long exposure on a camera facing a highway at dusk: the cars' tail lights appear as streaks traveling down the highway.)

For the photo inside the brochure, the tanning beds were shot with a longer lens in our Portland location. The background star field was easily created with black seamless [paper] lit from behind, with holes punched in it.
Once all the images were shot, the superimposing of the final photographs and client-chosen artwork was done at a prepress house, rather than our own Studio 3 Digital Department like we use for post-processing today.
The process may have changed in all the years since, but we still create laser-focused, high-quality images for discerning clients. Check out our other totally awesome product imagery, and Just Say Yes to Studio 3 doing your next product photoshoot or video. Catch you later!
Related posts: