About two months ago, we were approached by Portland artist Gage Hamilton, the organizer of a public mural art project "Forest for the Trees Northwest", as a possible site for one of 10 new murals that would be going up the week of August 19th. The south wall of Studio 3 was of particular interest due to it's size, accessibility and well, it looked like it could use some artistic love. Just standing in the parking lot looking at the vast orange canvas that would be transformed into an original piece of art, we wanted to find a way to document the process. All we were told was that the artists would be painting for 5 days, that the outcome would be a surprise and that the result would be epic and spectacular.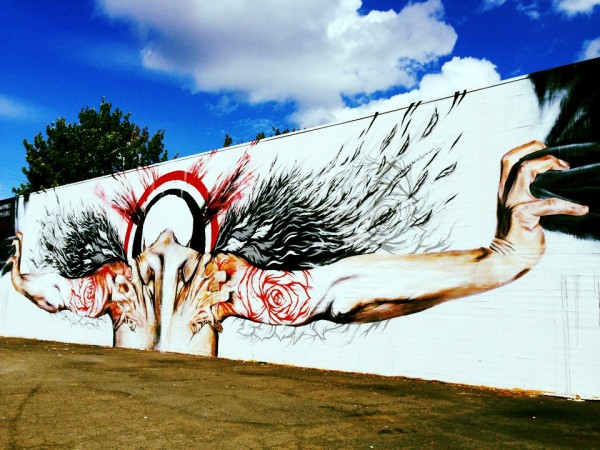 After much internal discussion around documenting this creativity, we decided the best way to document the week of painting was going to be the creation of a time lapse video. We set up a GoPro Hero 3 on the roof of our neighbor, the Jolly Roger Bar and Grill and recorded from dawn til dusk for 5 days. The GoPro also took an exposure every 30 seconds. Through our friends at Star Rentals, we were able to provide the two scissor lifts to the artists to assist with the project.
Hawaiian artist, Kamea Hadar (@kameahadar), and Australian artist David "Meggs" Hooke (@houseofmeggs), worked throughout the week and gave us an amazing addition to the studio and the Hawthorne neighborhood.
Check out the resulting time lapse video and the amazing art that the guys created. Better yet, drop by the studio and check it out in person. ~ David King / Director / Studio 3 Films
To see more of the "Forest for the Trees Northwest" art work located in the Portland area please visit their website at http://www.forestforthetreesnw.com/
Related posts: