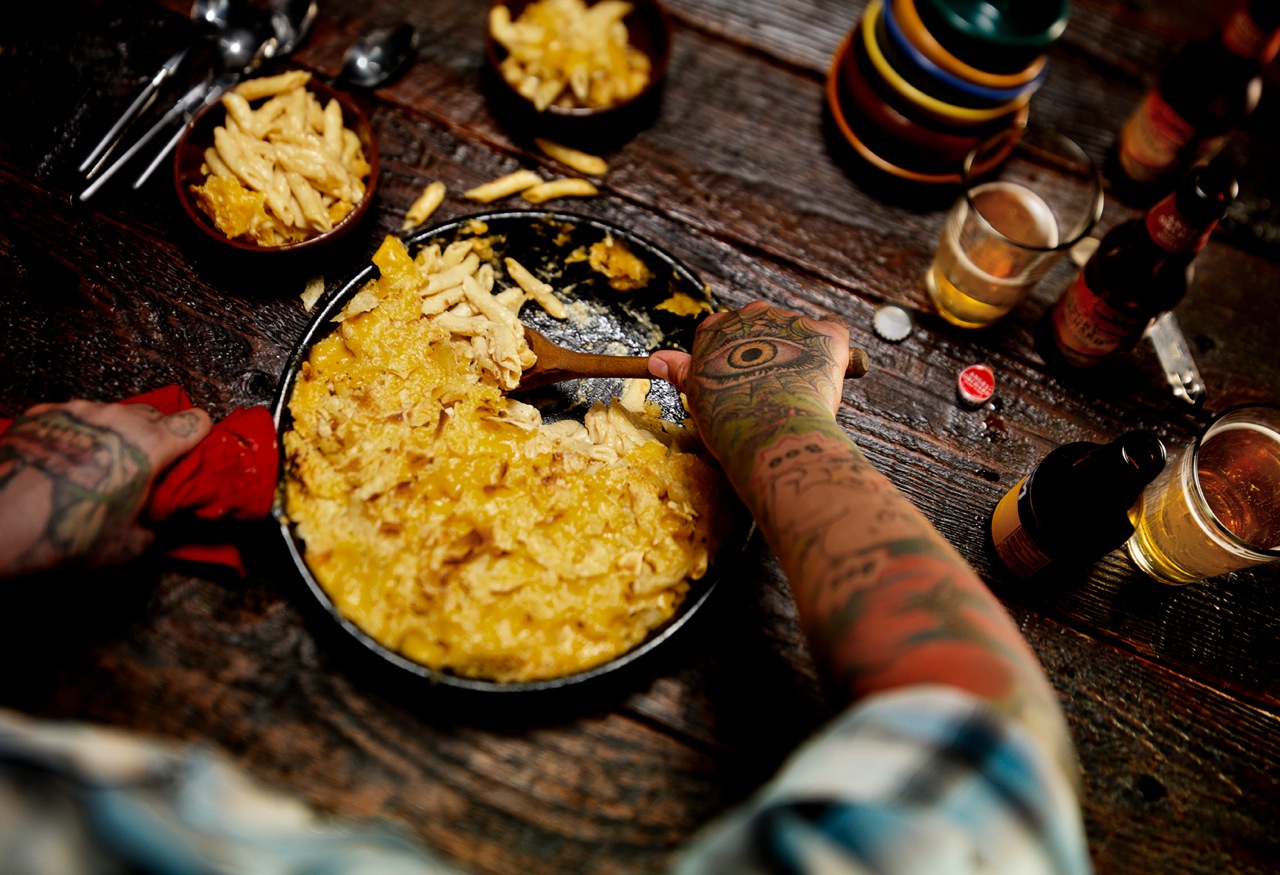 This Mac & Cheese food photography shoot showcases the Studio 3 creative Team's exceptional ability with food photography and food styling. The goal was to show the quintessential down-home comfort food (macaroni & cheese) in a cozy Fall table setting, creating a warm, family-inspired atmosphere. The color palette featured an array of rustic wood, reds, and yellows…but with a Seattle twist. A Thanksgiving with friends = a "Friendsgiving." The resulting photo depicts a homey environment in a beautiful, relatable way.
David Bell was the ideal choice as photographer for this shoot since creating a dark, moody atmosphere is one of his many skills. David and our fabulous Producer Ms. Megan spent half a day just working on the lighting and playing with the tilt-shift the week before the shoot. The tilt shift adapter is a favorite tool of Mr. Bell's, allowing more control of the plane of focus. With this he was able to get the essential shallow focus to the shot, directing where the viewer looks. Due to the extensive lighting preparation once the model was actually on-set, the shoot was executed seamlessly within just 2 hours, making the model budget reasonable.

The team utilized an old cast iron skillet that had been loved for many years, and mis-matched bowls to give the sense of Seattle "found" goods. (It seems to be a recent trend in food photography and prop styling to have an eclectic collection of silverware, plates, bowls, glasses etc. instead of "matched sets" of everything – check out the latest issues of your favorite food and lifestyle magazines to see this in action!). In trying to stay authentic to the creative vision, we used the bowls as our (seemingly) random element and kept consistency with the silverware and glassware. Cider right now is the new beer (isn't it, though?) and we have a BIG love for local ciders, so wanted to make that option available on our endless prop table. The request for a model with a hipster vibe took us visiting tattoo parlors instead of the normal modeling agencies.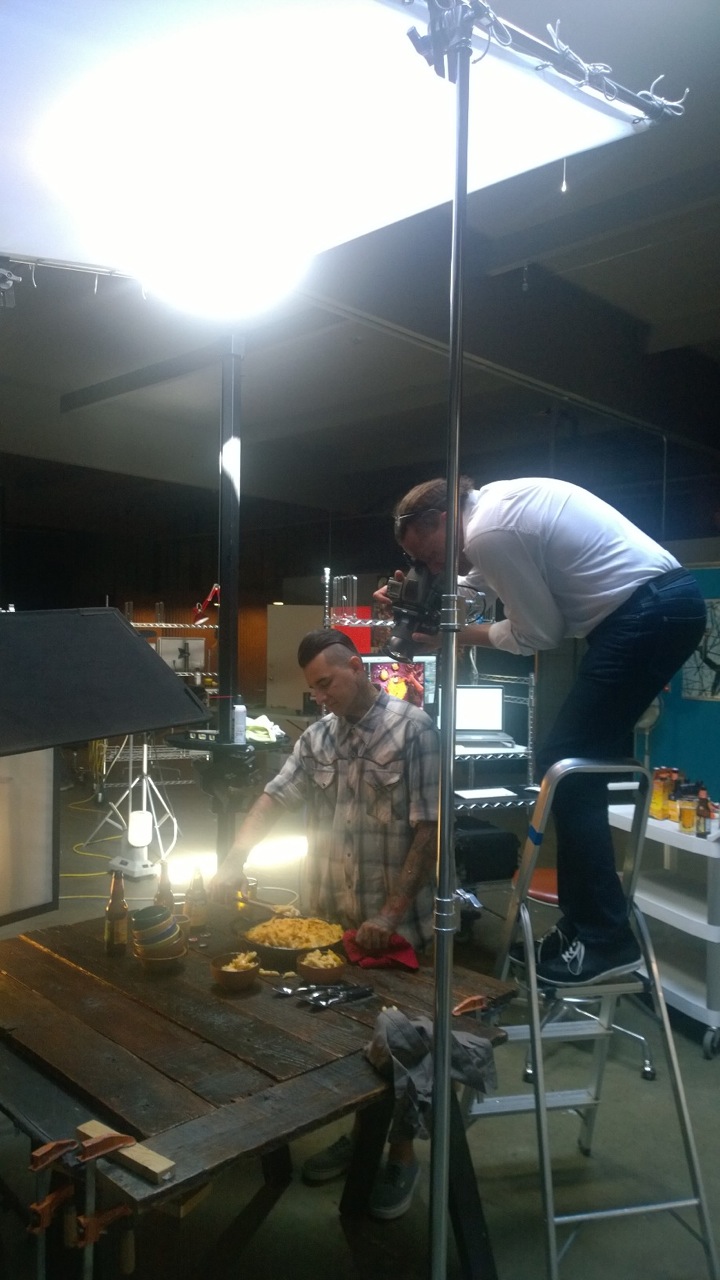 Besides the food, the model's arms were the most important element in the image. We needed someone that had interesting colors, patterns, and art covering their whole forearms, and ideally, with tattoos on their hands as well. (No makeup necessary!) We originally toyed with the idea of a woman serving the food, but thought that was too conventional. We settled on a rugged PNW (that's Pacific Northwest for those of you not familiar with our local slang!) male with the perfect amount of unique designs, color, and composition to his tattoos. This edgy element really took the shot to the next level.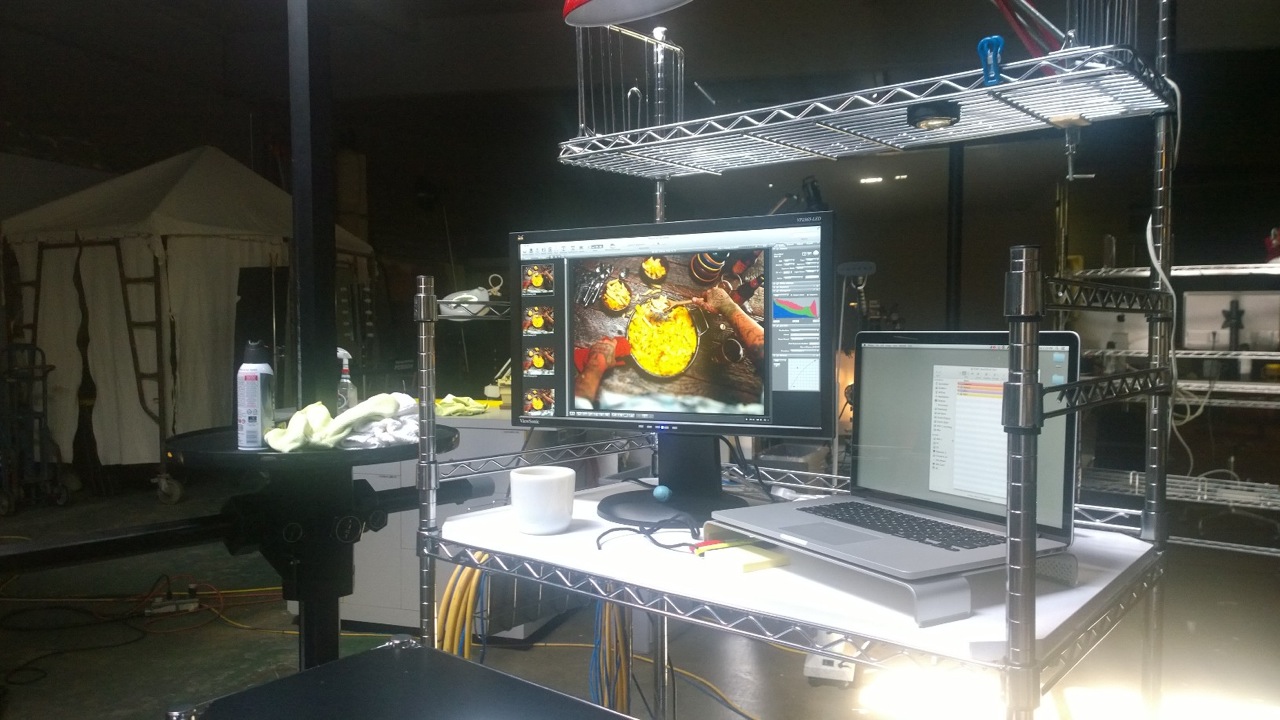 Food Photography Essentials in a Professional Photoshoot
*Food photography often has a short window of time before the food starts to cool off or look less than "appetizing." Unlike other product photography shoots, there is a time-sensitive imperative to capture the shot quickly.
*Allow time before the shoot to extensively text lighting setups and prop styling. The more time spent beforehand on these details, the more efficiently the shoot can be carried out. (Time is money!)
*The Producer's skills are essential in executing the shoot and in coordinating all the necessary logistics. Our Producer Megan Nolan has years of experience with Food and Beverage Photography, so is able to coordinate efficiently and effectively to capture that perfect shot.
Producer: Megan Nolan
Props: Megan Nolan
Wardrobe: Megan Nolan
Comic Relief & Prop Removal…aka eater of mac: Chris Eltrich
Photographer: David Bell
Digital Artist: Alex Gumina
Model: Michael Lopez
Camera: Hasselblad V-Series with a 35mm lens and the tilt shift adapter
Lighting: Speedotron Fresnel flash head
Check out more of our food photography here – but we're not responsible if your mouth starts watering uncontrollably. And if you're in the market for photography that makes your products, beverages, and food entice, give us a ring anytime.
Related posts: