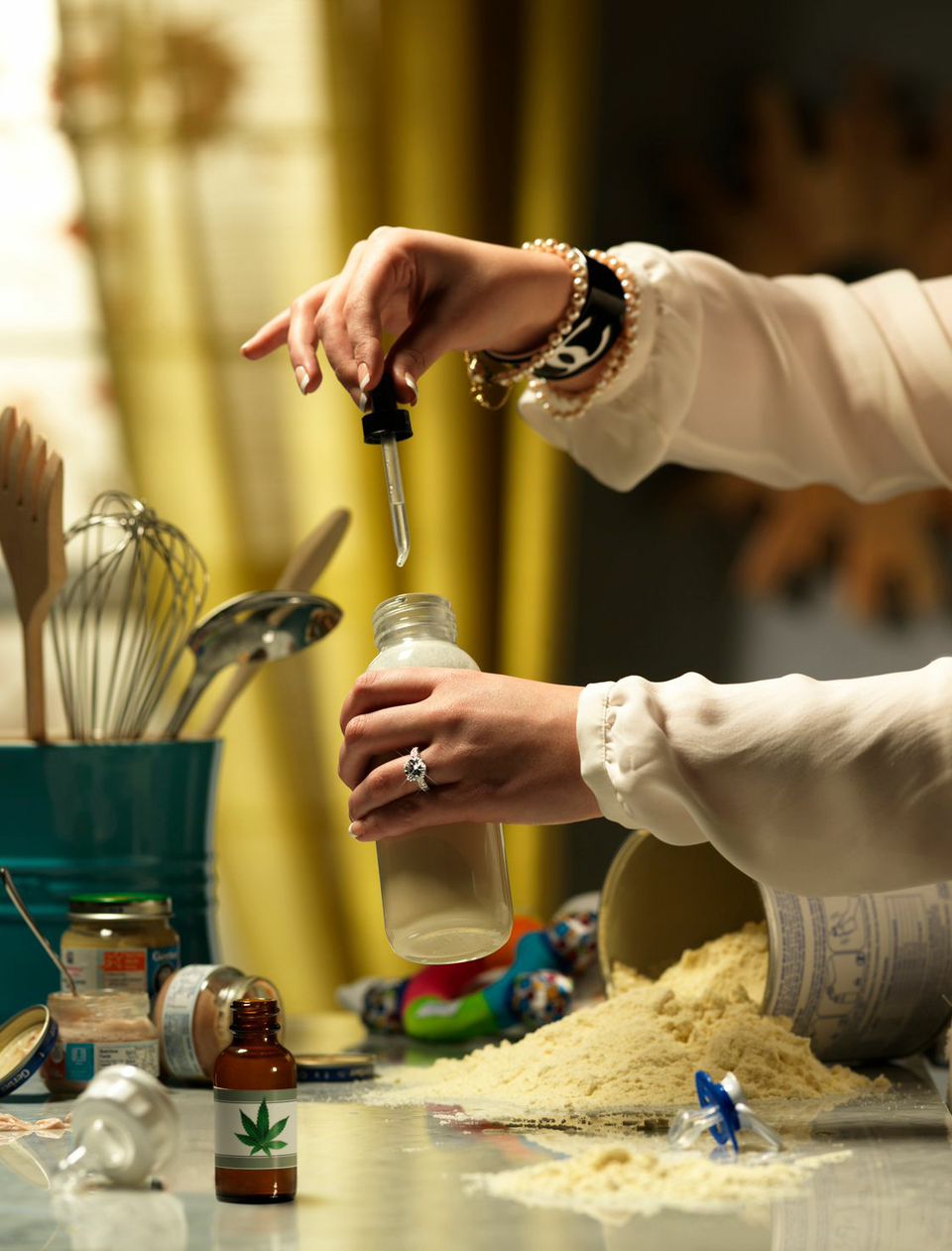 Today's the day! With legalizing cannabis up for vote in Oregon, Alaska, and Washington D.C., we thought it timely to blow some smoke at the establishment and share our latest Editorial Photography project Weed Drops.
To create a visual pun requires taking a traditional environment and the viewer's expectations – and turning both on their heads. The brief was to create something controversial and racy, telling a story by utilizing props and setting to create visual interest. The goal was to make people say "What?" and "Why?" and spark some good ol'-fashioned social commentary.
Despite the homey setting for the backdrop, the lighting had to be elegant and chic. The Studio 3 Team endeavored to evoke a moodiness to the scene with an overall warm yellow tint. Yellow was selected because not only can it evoke warm, pleasant feelings, but it can also act as a warning signal, indicating danger. That combination underscored the controversy surrounding the social issue of marijuana legalization. All of the props, wardrobe, and jewelry were selected by Producer Megan Nolan to create an environment of luxury and excess. The label on the weed bottle was created by Digital Artist Carl Beery and attached to the selected bottle.
One of Photographer Chris Eltrich's strengths is capturing both comedy and many elements within a single shot – which made him the ideal choice for this editorial photograph. Utilizing a longer focal length on the camera, he created a shallow depth of field in the foreground to draw more attention to the hands and baby bottle. Harmonizing the many different props was a challenge, but the Team styled the ideal array of baby food jars, toy, kitchen utensils, and pacifier to focus everything on the action in the center of the frame. What came together was a blend of stellar product photography with ironic social commentary.
When we're not pushing the envelope on high-end Editorial Photography we also create award-winning digital art, cool footwear photos, cutting-edge technology photography, and mouthwatering food and beverage photography. Check out other portfolio images above, and if you're in Oregon, Alaska, or Washington D.C., don't forget to cast your vote today on this burning issue!
Photographer: Chris Eltrich
Producer: Megan Nolan
Props/Set/Wardrobe: Megan Nolan
Digital Artist: Carl Beery
Lighting: Speedotron Strobes, Beauty Dish, and large Softbox
Camera: Hasselblad H-System Camera with HC 210mm Lens
Related posts: